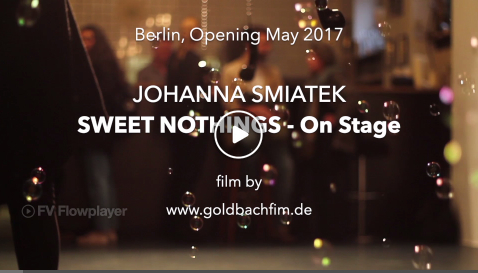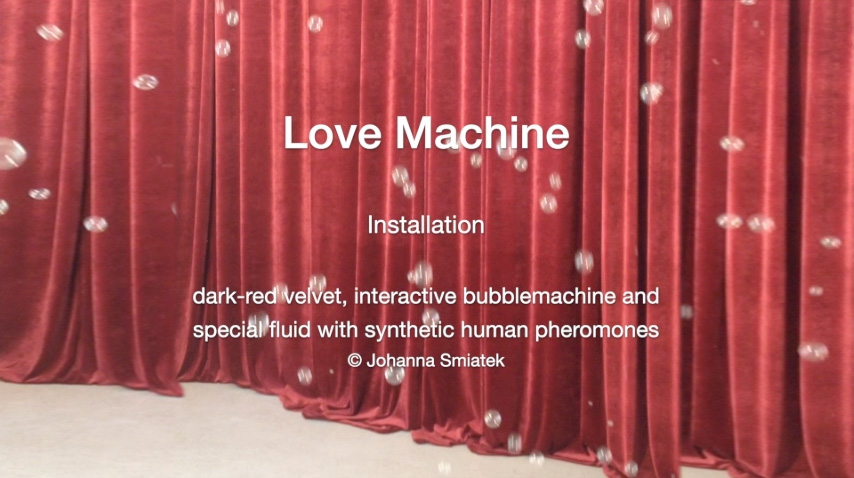 SWEET NOTHINGS – On Stage, 2017
Love Machine: dark red velvet, lacquered wood, water, bubble machine, special bubble liquid with pheromones (synthetically produced human sexual attractants)
Size variable, 1500 x 300 x 50 cm
Sweet Nothings: multiple handsets, cable, MP3 player
In the exhibition SWEET NOTHINGS – On Stage (Zagreus Projekt, Berlin 2017), the artist shows various forms of the "search for happiness" and promises from the media, the Internet and advertising. Happiness, not as a real state, but as a virtual "consumer good".
In the centre of the exhibition is the extended Love Machine, an installation that the artist has already shown in 2016 and which gives every visitor a short moment of happiness.
 In the exhibition she expands the Love Machine and lets the visitors act in the installation. The work is enriched by the sound installation Sweet Nothings. At regular intervals, telephone handsets hang from the ceiling in the room. You can hear love promises cut into endless loops from many films. The visitor can listen to these sequences via the classic telephone receiver, as if the promise were intended for him alone. Love as a unique promise for eternity or perhaps only as a brief snapshot that repeats itself next time for someone else?
During the exhibition period, specially designed aphrodisiac menus were offered for dinner evenings to help you find a little happiness. For the opening, aphrodisiac snacks were served as a foretaste of the upcoming menus.